Paula Fitzgerald
Born on 29 June 1896, Paula grew up in the inner-city Brisbane suburb of New Farm in a middle-class, Catholic family. She was educated until age 15 at All Hallows', a Sisters of Mercy-run girls school where her aunt, Mary Fitzgerald, was Mother Assistant. Paula left school at age 15 and from that age onwards she pursued her love of writing poetry. She achieved success early as a 'child poet'; by the age of 16 her poems and short stories appeared regularly in newspapers including The Daily Mail and the Australasian.
Between 1916 and 1920 Paula often collaborated with her sister Agatha, a talented illustrator. They were referred to in the press as the 'Talented Misses Fitzgerald' and their illustrated children's poem, 'The Lady in the Blue Cloak', caught the attention of Sydney Ure Smith, an editor at Art in Australia. Agatha ceased publishing work after her marriage in 1920, but Paula remained a prolific poet for the next four decades.
As well as working as a nurse and a kindergarten teacher Paula was involved in numerous literary groups, including the Catholic Poetry Society, the Meanjin literary circle and the Jindyworobak movement. Her only individual volume of poems, The Singing Tree, was published in 1941. A devotee of the sonnet, Paula largely eschewed modernism. Her poetry is soft and melodic, imbued with allusions to fairytales and Celtic mythology. Individual works hint at personal heartbreak and loss, but while Paula's work has a deeply emotional and spiritual quality, it is never confessional.
One of Paula's most modern and most personal poems is her tribute to her brother, Cyril, who was shot in the head on the battlefield in France, and died of wounds on 17 April 1918. Paula did not publish any poems in the months immediately following Cyril's death. Her work published in early 1919 shows a marked shift in subject matter - from faerie-lore and the natural world to the horrors of war. 'The Fallen Soldier', included in The Singing Tree, makes Paula's grief explicit, and highlights her disillusionment and despair.
Paula remained an active participant in Brisbane's literary world until her death in 1972.
Paula Fitzgerald
John Oxley Library, State Library of Queensland.
Zora Cross
Zora Cross was born in Brisbane's Eagle Farm on May 18, 1890. She was educated at Ipswich Girls' Grammar School and then at Sydney Girls' High School. Zora loved poetry from childhood; her mother was a passionate advocate of literature and her father passed on an appreciation of Irish folklore and literary traditions. After studying at Sydney Teachers' College and working for a short period as a primary school teacher Zora supported herself by acting, singing, teaching elocution and writing journalism and poetry. She married in 1911 but chose not to reside with her husband, and the marriage ended in 1922.
Before the First World War Zora was best known as a writer of love poetry, including the volume Songs of Love and Life, the cover of which Norman Lindsay refused to illustrate because, he believed, women could not write love poetry. Zora was later known as a children's poet, and she experimented with several different forms and genres throughout her career to maintain commercial and financial viability.
Zora's brother Jack enlisted on 12 December 1916. He had just finished his final exams at Sydney High School and was enrolled to study medicine at the University of Sydney. He died 18 months later at the Royal Victorian Hospital in England from meningitis. Zora was close to her brother and her grief was immense, betraying itself in her body. She developed a growth on her eye from excessive tears that she did not allow doctors to remove.
Zora wanted to memoralise Jack in her writing as soon as possible, but the book she was working on was for chlidren, and the dedication she added, 'to all the young dead', seemed out of place. Zora seemed to grasp innately that the grief she was feeling, although extraordinary in her own life, had been made ordinary and everyday by the last four years of carnage. Jack's death was no different than the thousands of others who had died, none of whom would be remembered by history as anything more than one of a multitude.
When she was ready to address Jack's death in more depth, Zora felt that the only fitting memorial was an epic in the tradition of Alfred Tennyson's In Memoriam. She wanted the poem to illuminate the grief felt by sisters, but struggled with the composition and questioned whether she had the skill to complete it. The final poem, Elegy on an Australian Schoolboy, was published in a limited run in 1921. It struck a chord with readers and reviewers for its stark intimacy, so personal that it gave readers 'a sense of intrusion'. Its modernity is due, in part, to its deeply confessional tone, which removed all walls and barriers between the reader and the ugly, uncomfortable grief and anger of the poet.
That anger and bitterness resonated. Writing in the Australian Worker, Roderic Quinn noted that Zora 'succeeded in expressing the common mood of many voices of thousands and thousands of sisters...The sorrow, which cries out from every line of it...might have been written not in ink, but in tears.'
The poem illustrates that loyalty to family trumped loyalty to empire.
Zora Cross
State Library of New South Wales
Emily Coungeau
Emily was born around 1860 in Essex, England and migrated to Australia in 1887 after working for several years as a travelling ladies' companion. She married Naoum Coungeau, an Albanian restauranteur, in February 1889 and settled in Brisbane, where the pair opened a wine saloon opposite Customs House in present-day Fortitude Valley. Emily and Naoum were cosmopolitans in the colonial outpost of Brisbane, introducing continental traditions and drinks, including Emily's speciality of cafe au lait, to local society.
Emily began to publish poetry in newspapers and periodicals in 1913, and produced her first of four poetry volumes in 1914. From the start she was inspired by world events, including the role of woman in the First World War. Her work reflects an imperialist and patriotic worldview, and featured some explicitly racial themes. Many of her wartime poems are examples of maternal imperialism - an ideology that promoted women's role as 'mothers of the empire'. Although it essentially represented a conservative agenda, maternal imperialism and feminism were not incompatible in this period, and Emily's poetry and advocacy work embody that duality. She was a supporter of the Lyceum Club and the University of Queensland's Women's College, and encouraged other female writers such a Vida Lahey. Her work is at once feminist, cosmopolitan and nationalistic.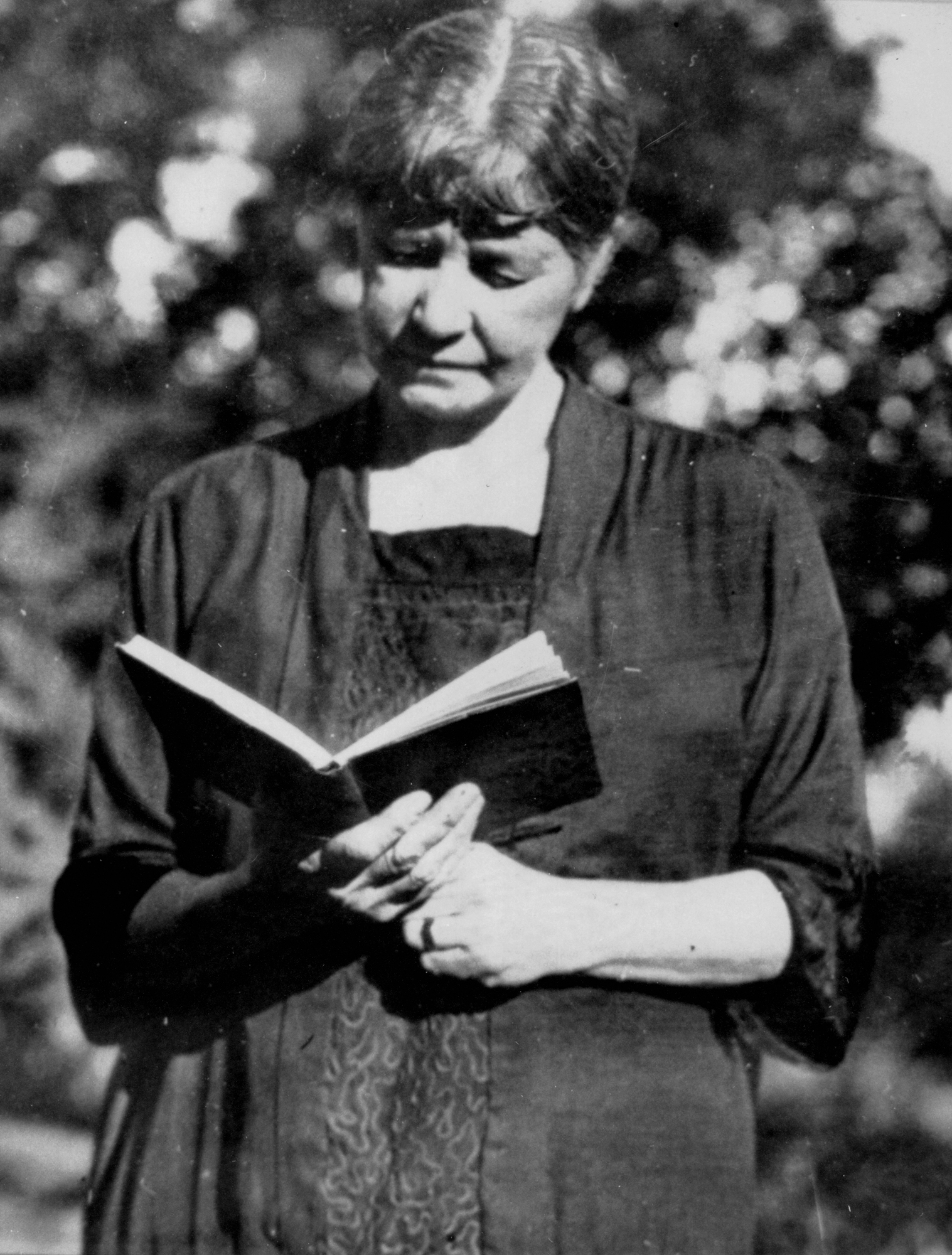 Emily Coungeau
John Oxley Library, State Library of Queensland.
Mabel Forrest
Mabel was born on 6 March 1872 on Queensland's Darling Downs and grew up in south-west Queensland, where her father worked as a station manager. She was educated at home by her mother before marrying John Burkinshaw in 1893. The couple separated three years later, and Mabel remarried in 1903.
Labelled 'the most industrious versifier in the Commonwealth' Mabel was a successful writer and poet by the beginning of the First World War. She was published in the Australasian and the Bulletin along with London's Pall Mall Gazette and Spectator. Mabel's poetry during the War reflected her patriotism and her maternal protection for her fellow citizens. She had over 25 poems published in 1914 and 1915 in popular periodicals, and she included war verse in her successful post-war publication Roses and Laurel Leaves. These poems deal with the sacrificial nature of war deaths, and she also took inspiration from key events in the conflict that were widely reported on at home, like the landing at Gallipoli.
Mabel took her role as a teller of war stories seriously. She contributed three poems to a pamphlet that raised money for the Kangaroo Point Red Cross Kitchen, which were accompanied by responses from a soldier poet. Her work struck a chord with soldiers serving in Europe and she received hundreds of letters from servicemen, which she preserved as treasured possessions in her cuttings books. Writing work that provided hope and sympathy to soldiers at the Front was important to Mabel - fifteen years after the war she spoke reverentially about a Gallipoli veteran who had carried her poems with him through the Battle of the Somme. Memorialising their sacrifice was her purpose.
To dismiss Mabel's work as jingoistic and thematically simplistic would be a disservice to the sincerity that imbues her verse. She felt the tragedies of the war deeply, and this is reflected in her work. As her friend and journalist Doris Waraker explained, Mabel 'wrote her best poetry during the First World War, which holocaust, needless to say, filled with agony her sensitive spirit. She wrote once, 'I have dreamed of Flanders till I feared to sleep again - for the horror of the German guns - and the hate and wounds and pain. And many of her simplest and most moving poems were concerned with the young men who died in saving the world of that day' (quoted in Gwen Fox, 1986).
And although Mabel's poetry for most of the war years celebrated the bravery of Imperial troops, she was not ignorant of criticisms of war. Mabel's poem titled 'War', published in the Bulletin on 24 September 1914, just a few weeks after war was announced, denounced the concept of war in general, taking a realistic, pessimistic view of the conflict:
And someone piling money overseas
From rotten stores and bayonets made of lead;
And someone praying 'peace' (and loading guns)
And bloated birds of prey and starving men
And ravished women...This is also war.
Mabel's love of country manifested itself in a desire to protect it, and to exalt those who did the protecting. But her poetry also recognised other perspectives, perhaps informed by her friendship with the feminist and peace campaigner Rose Scott. Like so many women poets of this time, Mabel's poetry eludes easy categorisation.
Mabel Forrest
John Oxley Library, State Library of Queensland.
Alice Gore-Jones
Some of the most interesting poems from the First World War period are not those that reference the war in an obvious way at all, but which highlight how the rhetoric of war imbued all daily life. In these works, the violence of war seeps into poets' descriptions, imagery and metaphors. This permeation of war vocabulary into every day life is seen in the work of Brisbane-based poet Alice Gore-Jones.
Born in Toowong in 1887 Alice made her living as a journalist, writing primarily for the social pages of the Brisbane newspaper The Telegraph. She also wrote and published poetry beginning in 1904.
Some of Alice's best works engage with a sense of place. Her poems about Brisbane evoke the languid, tropical quality of the city that became popular with later writers. Alice wrote poems explicitly about the war, some of which were included in her only published volume of poetry, Troop Trains, in 1917. In these, bubbles of doubt and scepticism about the value of war are evident. But the best of her poems were those were a sense of place was mixed with war vocabulary and imagery. The poem 'Brisbane', for example, evokes the quiet sense of dread that settled over the city by 1917, without ever making mention of war.
Alice Gore-Jones
John Oxley Library, State Library of Queensland
Lala Fisher
Lala was born on 27 January 1872 in Rockhampton. She first recognition as a writer came in her late twenties, when she was living on the Isle of Wright with her husband and two sons. Lala had varied skills and interest, and was known within the United Kingdom as a writer, lecturer, musician and long distance swimmer. Travelling frequently to London she became an active member of England's expatriate writing community. Her own writing continued to be inspired by the Queensland landscape and the bush which she 'loved so well.' Lala edited a volume of writing by Australian expatriate authors in 1899. The publication of her own volume of poetry, A Twilight Teaching, in 1898, saw the London Observer label Lala as 'the poet of Australia.' Before returning to Australia Lala served as Queensland President of the International Congress of Women and was a fellow of the Anthropological Society of London.
From 1901 until 1906 Lala lived in regional North Queensland and in Brisbane, contributing to numerous newspapers and periodicals. She later moved to Sydney, supporting herself temporarily as a housekeeper before purchasing the Theatre Magazine, which she edited until 1918.
Both of Lala's sons enlisted in the First World War, and Lala's poetry during the war years is unusually critical of the sacrifice Australia's young men were called on to make. She challenged the theme, popular in patriotic poetry, that masculinity and militarism were intertwined. She opposed conscription and praised men who resisted the pressure to enlist. She challenged Prime Minister Bill Hughes on conscription at a public meeting and later tried to recruit Henry Lawson to her cause. 'Why did they fight, and why did the die?', she questions in one of the poems published in the 1918 volume Earth Spiritual. The book showed Lala to be 'a woman of intense human feeling,' noted The Daily Mail.
Writing after Lala's death in 1929, a friend noted that she had 'experienced the pangs as well as the joys of living'. Lala's writing was sometimes radical and unorthodox; she was strongly anti-war and interested in the female experience. At the end of her life she suffered from a mental or emotional illness, and was hospitalised from 1923 until her death from heart disease.
Lala Fisher
John Oxley Library, State Library of Queensland